Player ID: christen MX
Character Name: San (pronounced "Sun") Arus-Xeva
Race: phazon corrupted X-parasite
Age: Born 4 hours after the escape of the original SA-X, corrupted 3 hours later
Gender: female(?)
Height:6'7(without suit) 7'2 (with suit)
Weight: 240 pounds (without suit) 320 (with suit)
Known Languages: Galactic Standard and chozo.
Appearance: Her out of suit appearance fluctuates between being identical to Samus Aran, and looking like this (Though stable and complete bodied):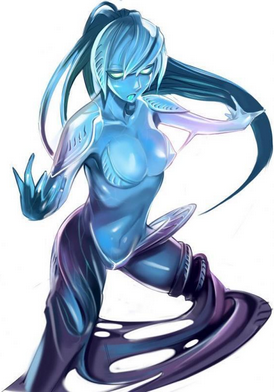 She is completely unaware of these frequent transformations; even if shown video of herself changing, her mind blots it out and seamlessly shows her in her Samus form. (the transformations to and fro occur several times a day on average)
Faction/Organization: bounty hunter
Alignment: Chaotic Good
Personality: A seemingly strong, kindhearted soul, yet one with no hesitation to do what needs done for the greater good. She would sacrifice herself in an instant if it meant saving innocent life.
Strengths: Powerful equipment, all the training and memories of Samus Aran, an incredibly hard to kill X-Parasite body
Weaknesses: All the memories and trauma's of Samus Aran, a warped perception of reality, distorted reflexes
Likes: Ex: Blowing shit up
Dislikes: Space Pirates, Ridley
Equipment:
History: As stated above, this entity began as one of the 10+ SA-X duplicates aboard the BSL station, born from the original after 4 hours of freedom. At some point within the following 3 hours, this SA-X found its way into one of the secret labs (of which there were several. Would you really think that they would only have the one?), which contained many research canisters filled with failed attempts to revitalize phazon harvested from the initial Phaaze attacks (on Bryyo, Elysia, and Norion). It also had four containers (similar in appearance to those things from the room in MP2 where you fought Dark Samus for the first time) containing successfully produced fully active phazon. The SA-X was drawn to this mysterious and dangerous substance, accessing memories of how dangerous and powerful it was. Dangerous and powerful indeed. The SA-X released the material from one of the research vessels containing active phazon and absorbed it, "hoping" to gain power and some advantage to further the X plague. Instead, the phazon warped the strange pseudo-consciousness of the SA-X, melting away much of the baser instinct, suffusing it in the conscious and unconscious memories of Samus Aran, warping those memories (which are contained within the X as data stored through DNA storage most likely. Now, imagine what a highly mutagenic, radioactive DNA altering substance like phazon would do to DNA memories) and forming a twisted recollection of Samus' life through the corrupted eyes of this SA-X. Her body and mind warped almost beyond recognition, the SA-X (beginning to recall herself as "San Arus-Xeva" a strange combination and mutation of SA-X (a term heard from "Adam") and Samus Aran) wandered, her replicated suit beginning to mutate, changing into something else, drawing from the suit's leftover data on the dark and light suits as well as the now long gone Phazon Enhancement Device (as well as the equipment used along with said "suits") and Samus' memories of Dark Samus and the Phazon Suit, forming a new armor from these mechanical and biologic memories, as well as outfitting San with a powerful arsenal of phazon and pseudo-phazon weaponry. By the time that Samus (the real one) had set the station to collide with SR-388, San was already deeply embedded in her warped memories, believing herself to be a real entity, as well as essentially thinking herself to be Samus Aran. This came with one definite benefit in the form of great experience escaping exploding planets, planetoids, and space-stations, and San used a navigation room (hacking in quickly with the scan visor) to locate a docking station with available vessels which could support her and allow escape. She quickly made her way to it and escaped with only seconds remaining before the station collided with the planet (she appeared to have gained Samus' uncanny luck as well as her memories). After escaping from the doomed station, San made her way to the nearest GF controlled planet, hoping to acquire temporary residence while she got a new ship made on Aliehs III (she remembered a malfunction and life-pod jettison from her old ship, as well as the subsequent crash into the asteroid field, though much of it is hazy). She was quickly alerted to a problem however: a total lack of information on her existence. This raised red flags obviously, but not of the type that would alert her to the truth (would that be considered fortunate or unfortunate?). She was left believing that something had happened to wipe her from the Federation's registry, which led her to "re"registering herself under the name she believed hers. She subsequently connected her commandeered ship to the GF database to have the necessary access to what amounted to "Bounty Listings" to get work, and quickly began hunting down criminals for money. By the time a Galactic Standard Month had passed, she expected to be having personal requests streaming in nigh constantly (believing herself to be Samus, and that everyone knew her name and so on), and was left shocked when she had still not received one. This did not deter her of course, and she continued on in her hunting efforts. Her ruthless efficiency and quick results astonished people, and she rapidly garnered a name for herself in the bounty hunting world. Away from her face, many people began referring to her as "The next Samus Aran". After about four months, she began receiving personal requests for high profile jobs (both hunts and mercenary work like protecting targets or locations, or the kind of work we see Samus doing in-game), and began climbing the bounty hunting ladder ever higher. (That's pretty much the end of her story until the end of the "Post-fusion Modern era", the whole "War to end all Wars" thing that leaves off for the beginning of the Legacy era)
(Rest is WIP)
Suit Name: (Believed to be) Chozo Battle Suit Ver SA1-4468-VM6-P
Suit Type: Organically replicated Chozo powered-exoskeleton, heavy phazon corruption induced mutation
Weaponry:
-Beams
*Er
Ro
R...Primary weapon..corrupted beyond recognition. New designation: Phaaze beam - The SA-X's primary weapon (a combination of the spazer, wave, plasma, and ice beams), corrupted by a phazon mutation. Where once were three beams split from the original, now there is only one which wraps around itself in a septupal helix that rotates at high speeds (it does not spin end over end, but continually in place; an aileron roll), further increasing its piercing power. It is a dark purplish blue in color
*Highly phazon corrupted variants of the beams used by Samus during primes 2&3
*Prime 3 Hyper-beam
-Missiles
*Phazon Missile, a phazon corrupted/enhanced version of the powerful (seemingly super)missile used by the SA-X in Fusion, capable of mass destruction, causes seismic shockwaves across a wide area, and leaves a background phazon-radiation for several hours.
*Disruptor missiles, a missile variant that is smaller and deals less damage than her primary missile type, but has several compatible upgrades, and its own ammo pool (early prime missiles)
*Seeker-Launcher, Can charge up up to five target lock missiles which can be targeted to single or multiple targets in any division
*Super-Missile, By charging up the phazon beam (power beam corrupted heavily by phazon), and using five missiles, a powerful shot with greater than 5 times the normal Disruptor missile damage can be shot
*Hyper-missile, When in hyper-mode, supercharging a missile with phazon leads to this need-like and incredibly quick and powerful missile mode, travels the fastest out of any missiles, even faster than most all beam weapons
*Phazon variants of all several other charge combos are present
Shielding: High-level Barrier shielding, Heat shielding, Gravity normalizers, Hazardous environment/material shielding, Friction normalizers
Shields: roughly 7,999 SU
Alt-Form: morph-ball
Weapons systems:
*Phazon Bombs (Detonation scatters liquid phazon globs in a 4 meter range, and leaves a 1 meter puddle at the detonation site)
*Power-bombs (Explodes like the PBs from OM, leaves everything in the blast range coated in phazite with a thin layer of liquid phazon on top and below)
*Hyper-ball (Usable in Hyper-mode only)
*Remote Bombs (An optional upgrade for the Phazon Bombs, deactivates the timer and allows for controlled remote detonation, increases usable bomb count to 10 simultaneous bombs, though they take a full minute to recharge. Good for laying traps.)
Movement systems:
*Continuous Boost-Ball (Functions more similarly to the attack used by Dark Samus than the movement tool used by Samus herself, shields the morph-ball in a deadly spherical phazon-energy shield while launching it at very high-speeds that cause it to ricochet off of objects violently, can continue moving at close to full speed for almost a full minute before finally slowing to a stop over 15 seconds)
*Spider-Ball (Prime Variant), Using an electro-static localized magnetic field generator, the morph-ball becomes electrified and magnetized, allowing it to stick to and move freely along specialized magnetic rail systems, while also dealing damage to anything that gets within a few feet.
*Spider-Ball (M2 Variant), The morph-ball gets coated in a phazon variant that rapidly decays into harmless bio-matter once removed from contact with the originating source (the morph-ball) and provides a kind of "Stickiness" that allows the morph-ball to stick to and move along almost any surface, though any kind of damage to the user will result in violent deactivation that launches the unit a good distance away at high speeds to escape whatever may be causing damage. The phazon residue is shown to quickly dissolve most biological material in the few seconds before it decays, ensuring fair damage to any organic entity that brings harm to San. It is also known to be able to quickly eat through many mineral substances, and is quite hazardous to electronics, due to its high energy output.
Description: Has the same mutated appearance as her primary suit (you have to use your imagination for now)
Ship: Nameless
Ship Type: Custom Hunter Class Gunship, commissioned from and built on Aliehs III
Weapon systems: Front and Rear mounted plasma cannons and up to date Ship-Missile launchers,
Attachments: Warp-drive Generator
Registered to the Name of: San Arus-Xeva